Charlotte Crosby has Rhinoplasty by Mr Sultan Hassan of Elite Surgical for her Rhinoplasty Surgery in Birmingham
Reality TV Star Charlotte Crosby from MTV's Geordie Shore and last years winner of Celebrity Big Brother chooses Elite Surgical and our award winning Mr Sultan Hassan as her surgeon. She revealed the results of her rhinoplasty in Heat Magazine that was published on 2nd February 2016.
Geordie Shore star and former winner of Channel 4's Celebrity Big Brother, Charlotte Crosby, chose Elite Surgical's very own award winning Consultant Plastic Surgeon, Mr Sultan Hassan to perform her recent rhinoplasty. The operation was perfomed at Elite Surgical's West Midlands Hospital near Birmingham. Charlotte had to avoid the paparazzi who were camped at the hospital trying to catch her photo.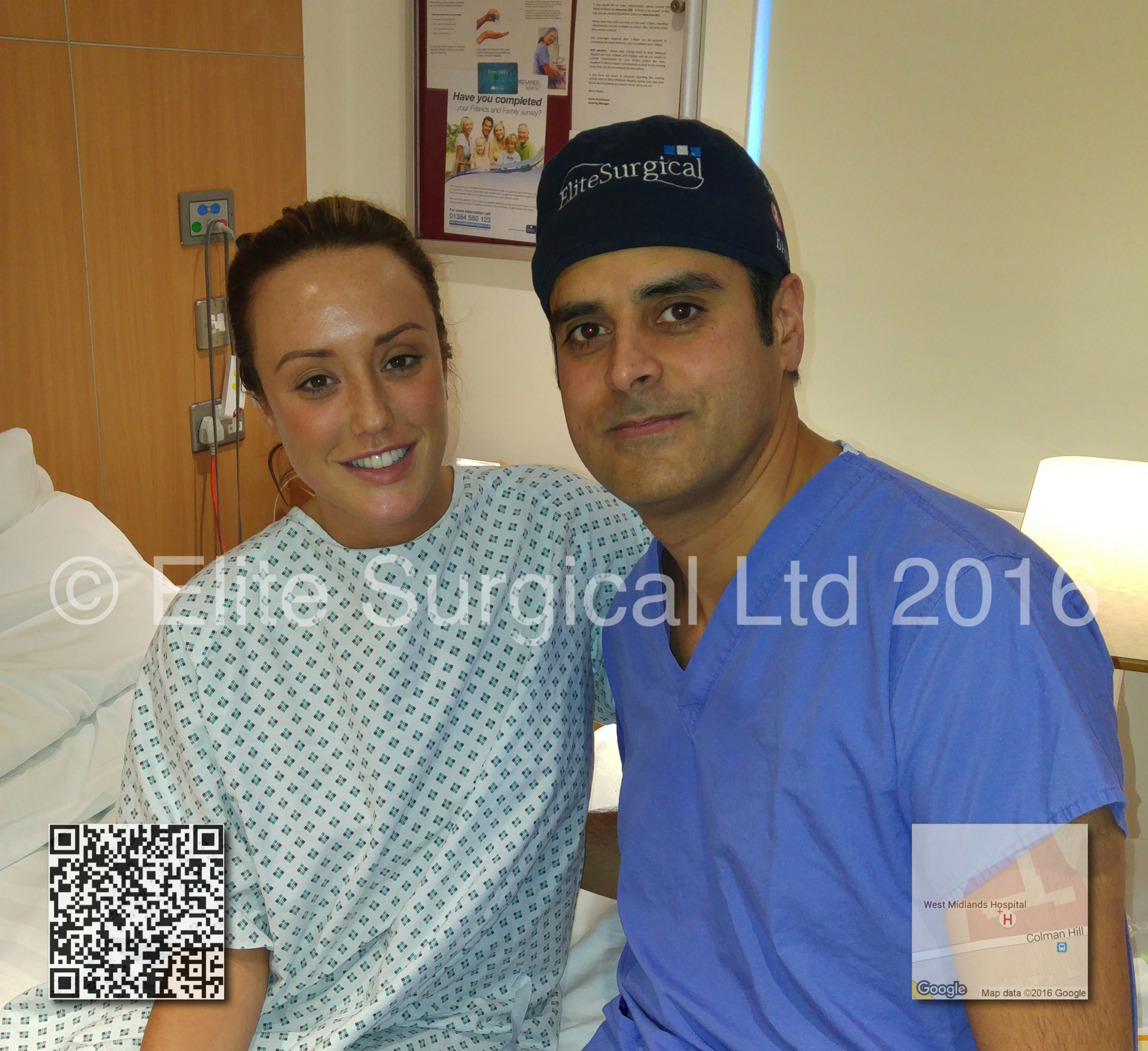 Charlotte told us that she had always been bothered by her hooked, hanging nose and it was the only real area of her body that had always caused her some confidence issues. She told us that despite losing a fantastic 3 stones in weight after a healthy fitness regime, her nose was one part of her appearance that made her self conscious. She told us that she searched long and hard to find the right surgeon to help her. She had several consultations before being recommended Elite Surgical's lead Plastic Surgeon, Mr Sultan who is an expert in Cosmetic surgery and has helped others celebrities such as other stars of MTV's Geordie Shore including Holly Hagan (Breast implant corrective surgery), Sophie Kasaei (breast uplift) and Marnie Simpson (breast uplift scar corrective surgery). She says that other cast members had recommended Mr Sultan Hassan for his attention to details, caring manner and meticulous perfectionist style. After meeting him for the first time she said she immediately knew that he was the best surgeon to help her fix her nose. She says she has not regretted the faith and trust she put in Mr Hassan.
Charlotte attended Mr Hassan's post-operative outpatient clinic accompanied by her mother and Holly Hagan for support to see the results of Mr Hassan's skills. When he removed her sutures and then the splint to reveal her nose Charlotte was overwhelmed by the amazing transformation of her nose to a shape and size she had only ever dreamt was possible. She subsequently commented on social media, "HUGE thankyou to @elitesurgical1 for making me the happiest girl in the world #Sultanhassan #MrHassan My nose is absolutely perfect.."
See Mr Hassan's article in OK magazine discussing the trend in Rhinoplasty amongst surgeons at http://www.ok.co.uk/beauty/charlotte-crosby-marnie-simpson-nose-job-cost-exclusive
Where both patient and surgeon agree realistic aims from surgery then rhinoplasty patients are often some of the most rewarding patients to treat and help.
During a face to face consultation with Mr Hassan at one of Elite Surgical's countrywide clinics in Birmingham, Cardiff, Doncaster, Milton Keynes, Liverpool and London the process starts with a face to face consultation with Mr Hassan that can last up to an hour initially. Further appointments are freely available if there are additional questions that may be face to face again or by telephone or virtual consultation via Skype of Facetime. On the day of surgery, Mr Hassan goes over the planned surgery again with his patient who are then seen by one of Mr Hassan's Consultant Anaesthetists. Patients then are shown down to theatre and offered a special type of anaesthesia called TIVA (Total intravenous anaesthesia) which allows rapid recovery without any sickness or prolonged drowsiness meaning patients are often able to go home after a few hours or stay in overnight depending on how far they have to travel and their circumstances. The surgery itself take around 2.5-3hours but can take longer for revision rhinoplasty procedures. Mr Hassan places temporary soft nasal packs that are removed before discharge and a splint is applied over the nasal bridge to protect the nose for a week. If your rhinoplasty is an open rhinoplasty where there is a small incision across the nasal bridge then these sutures are removed after a week at the same time that the nasal splint is also removed to reveal your new nose! It can take many months and even years for the final result to become apparent. However, around 80% of the result is normally evident by a month or so after surgery. You will normally be invited for review with Mr Hassan at 3 months after surgery and then as often as necessary.
Choosing the Right Cosmetic Surgeon
Charlotte stressed that it is so important to do your research and find the right surgeon.
We recommend that patients must ensure their surgeon is:-
On the the GMC Specialist Register for Plastic Surgery check at http://goo.gl/9xScfT
A full member of the British Association of Plastic, Reconstructive and Aesthetic Surgeons (BAPRAS – bapras.org.uk)
Holds the FRCS(Plast) qualification and is insured in the UK by MDDUS or similar.
Offers face to face personal consultations and explains benefits and risks of surgery
Does not offer time limited offers and recommends a cooling off period for patients to reflect, ask any additional questions and consider pros vs cons of surgery – we suggest 2 weeks.
For a face to consultation at one of nationwide clinics, with our award winning Cosmetic Surgeon, Mr Sultan Hassan then contact us through our website at www.elitesurgical.co.uk or call us on 07474112263 or 08000016688. Find out for yourself why so many celebrities and patients turn to Mr Sultan Hassan for his surgical expertise.