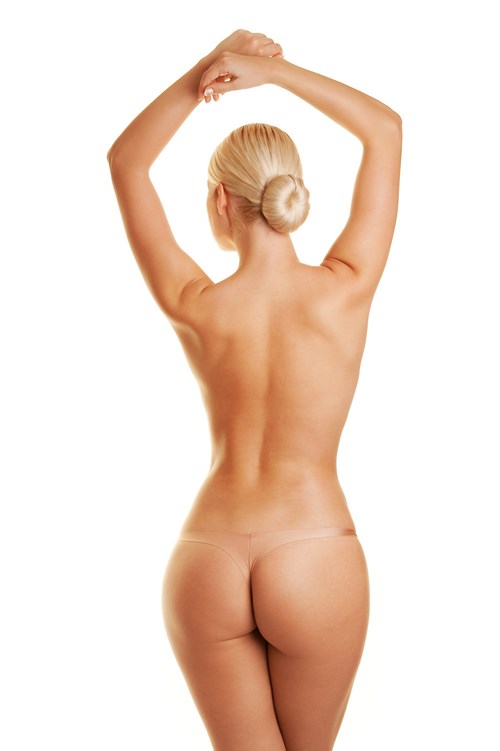 Brazilian Butt Lift (Fat Transfer to Buttocks)
Fat Transfer to buttocks known as a Brazilian Butt Lift is a procedure that uses Liposuction to remove excess fat from areas such as the abdomen or thighs. The fat that is removed is then injected into the buttock area which lifts the buttock and increases its volume.
Hospitals have advised us that they are putting a pause on BBL surgery whilst awaiting guidance from BAPRAS (British Association of Plastic, Reconstructive and Aesthetics Surgeons) and other surgical associations. Currently we cannot advise how long this pause will be.
Fat transfer to the buttocks is also called Brazilian Butt Lift or Brazilian Buttock Lift. It is increasingly popular amongst patients seeking to enhance their natural figure. Curvaceous figures have been popularised by many celebrities over the years but recently by the likes of Kim Kardashian, Jennifer Lopez and Nicky Minage. The procedure is sought after since patients also benefit from having permanent fat removal from problem areas in particular from around the midriff and inner thighs. The fat that has been gently liposuctioned is then cleaned and filtered with subsequent meticulous transfer into the buttocks (and occasionally into the breasts or even the face!). The final results can also be further enhanced with the use of silicone buttock implants that is also a specialist area of Mr Sultan Hassan at Elite Surgical.
What is Brazilian butt lift surgery?
Brazilian butt lift involves the transfer of fat from areas containing excess fat to the buttocks for better volume and reshaping by giving it a volume lift. This procedure involves liposuction for extracting fat from one place and injecting it into the targeted area. This is an increasingly popular procedure preferred by many celebrities. For those patients without enough fat then consideration can also be given to silicone buttock implants when buttock muscle exercises alone, do not improve the buttocks volume.
Different techniques of Brazilian butt lift surgery?
Brazilian butt lift is a dual process that involves the removal of fat by liposuction from one place and transfer of this fat to the buttocks. In some instances buttock implants may be used for a more firm contour, while in most cases, it may not be necessary as the harvested and processed fat serves to provide enough of a natural filler to give the buttocks the desired look.
The Brazilian Butt Lift surgery or Fat Transfer to Buttocks procedure at Elite Surgical is performed as an inpatient under general anaesthetic where small incisions are made, not only to remove fat with liposuction, but also to re-inject the fat into the buttock area. After surgery you will be prescribed a course of antibiotics. You will also be advised to take a mild painkiller if you experience any discomfort. There will be some bruising and swelling which may last for a week or so. Strenuous exercise should be avoided for six weeks but you may return to work after 10-14 days depending on comfort and your type of work. The stitches are normally dissolvable requiring no suture removal however occasionally only special skin glue is used to close the small puncture incisions. It is essential to refrain form sitting on the buttocks for at least three weeks following fat transfer to the buttocks to try to preserve the survival of as many fat cells as possible.
Special post Brazilian Butt Lift cushions can be ordered to allow sitting without placing pressure on the buttocks. The longer one can avoid sitting on the buttocks then the better the likely result achievable. You will be fitted with a special pressure support garment and additional garments can be ordered direct from UK distributors. Please ask for details.
The most impressive results are generally achieved when the Brazilian Butt Lift is combined with colouring liposuction including 360 degree waistline liposuction, inner thigh to help achieve the "thigh gap" and also back, inner knee and upper arm as required.
You should factor in at least a week off work and refrain from driving for 3 weeks and even then use the booty buddy type cushion to avoid sitting on your buttocks.
There are risks with any type of surgery and these will be discussed during your consultation with your consultant plastic surgeon and also emailed to you if you decide to proceed with surgery.
Once healed the results are essentially permanent since the cells are your own!
Who should consider Brazilian butt lift surgery?
Brazilian butt lift is a great surgical option for individuals who experience sagging or loss of firmness due to ageing in the buttocks. A beneficiary could also be one whose bottom requires volume or has a poor shape. By considering Brazilian butt lift through transfer of fat it is possible to achieve a fuller rounded perky buttock shape. Often the circumferential of 360 degree abdominal/truncal liposuction combined with fat transfer to the buttocks will help give the desired hour glass figure. Buttock implants can further augment the buttocks by giving a predictable volume increase that can be combined with fat transfer to the buttocks.
Benefits of Fat Transfer to Buttocks Surgery
The benefits of Brazilian butt lift through transfer of fat has twin benefits. It removes unwanted and excess fat from the thighs and abdomen, love-handles, flanks areas, thereby lending a more lean, curvy and fit appearance. It adds volume to the buttocks area thereby giving it more volume and better shape.
Preparing for surgery
Brazilian butt lift through transfer of fat and/or buttock implants involves the use of general anaesthesia. Therefore a recipient should take precautions generally taken prior to a procedure involving general anaesthesia, such as
Abstinence from alcohol prior to the procedure for at least a week
Abstinence from smoking prior to the procedure for at least 1 month
Sharing of medical history with your specialist cosmetic surgeon, performing the procedure
Be prepared to stay away from work for around three weeks
After the treatment& Recovery time
Post Brazilian butt lift procedure through transfer of fat or buttock implants, patients will be required to make changes to their normal routine for several weeks after the surgery. The patient should wear support garments that are specially designed to relieve pressure and improve swelling. The patient should also make use of cushions that are designed to reduce the pressure while seated, often called Brazilian butt lift cushions. We advise no sitting or lying on the buttocks for at least three weeks after fat transfer to buttocks or buttock implants. It is also important to arrange to undertake post-operative massage of the liposuctioned areas as soon as possible to help healing and improve contour
Risk & precaution to take
The risks associated with procedures performed under general anaesthesia apply to Brazilian butt lift through transfer of fat or buttock implants procedure. It is possible to reduce exposure to risk by taking the following precautions:
Share detailed medical history with your specialist prior to procedure
Be ready to go on painkiller medications after the surgery
Be prepared to stay away from work for at least three weeks
Make use of special support garments and purchase special cushions to avoid impaired results
The price of a fat transfer to buttocks or Brazilian Butt Lift Surgery is from £9,995. When combined with contouring liposuction the price is often up to £15,000 depending on the number of areas of liposuction required.
Fat transfer to the buttocks or Brazilian Butt Lift surgery is usually performed under a general anaesthetic at one of our specialist hospitals and usually involves an one night stay in hospital. Fat is liposuctioned and then transferred into the buttocks. Often  in order to achieve the desirable hourglass figure many women opt to also combine 360 degree liposuction around their middle to give a much more contoured/narrow waistline. This involves liposuction of the upper / lower abdomen / flanks / lower back often combined with inner thigh liposuction, This also means that more fat is available to fill and contour the buttocks.
This cost includes all your consultations before surgery and follow-up appointments following your fat transfer to the buttocks or Brazilian Butt Lift procedure.
For a consultation please complete our contact form or telephone 07474112263 or freephone 0800 001 6688