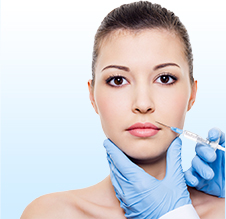 Dermal Fillers
Dermal fillers are popular treatments for wrinkles and facial lines caused by aging or sun exposure. A dermal filler procedure can smooth and plump wrinkles on areas such as the forehead, eyes, mouth and hands.  It can also be used to add volume to the lips, cheeks and the bridge of the nose.
The Product we use at Elite Surgical is Juvederm
The treatment involves injecting Juvederm into the skin to treat lines and wrinkles and restore volume. The procedure takes around thirty minutes.  There may be some swelling but this is usually minimal and will soon subside. You will be able to resume your normal activities immediately after the procedure. Results can last up to a year.
Dermal Filler treatments offer patients a wide range of benefits, including a more youthful appearance.
This treatment can be used to fill minor to moderate lines and wrinkles and is especially effective around the eyes, nose and mouth.
When used as a lip enhancement product, it can lend volume and definition to the lips, producing a sensual, more pronounced pout.
The treatment can be tailored to your needs providing a natural look.
The treatment is non-invasive with virtually no recovery time necessary; you can resume your normal activities immediately after treatment.
Not permanent and will naturally break down.
Technologically advanced man made fillers (such as Restylane and Teosyal) are animal-free and they require no test prior to treatment, whereas approx 2-3% of people have an allergic reaction to collagen and as such we carry out a 28-day skin test, prior to any collagen treatment.
Volbella/Volift filler ( 1st syringe/subsequent syringe) 450/300
Voluma/Radiesse filler ( 1st syringe/subsequent syringe) 550/400
Tear Troughs  from £550
Lips ( 1st syringe/subsequent syringe) 450/300
What is a 'vial' and how many do I need for my treatment?
A vial is simply a measurement of the anti-wrinkle injectable liquid administered during treatment. Typically, treatment for nose to mouth lines require 1 – 2 vials, marrionette lines require 1 vial, lips require 1 – 2 vials and cheeks require 2 vials.
Anti Wrinkle Injections with Botulinum Toxin