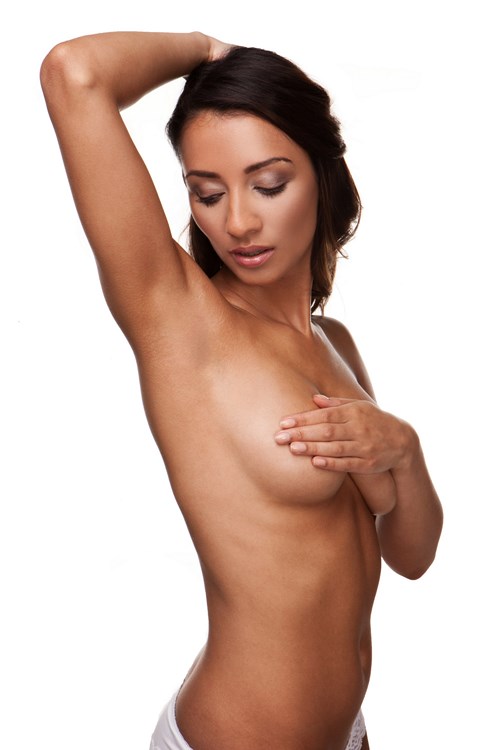 Breast Reconstruction
Breast reconstruction is performed after removal of a whole breast (mastectomy) or part of the breast (lumpectomy) to treat breast cancer. Breast reconstruction aims to rebuild your breast, to match the normal breast. Reconstruction can be done at the same time as the breast cancer surgery or months or even years later. Immediate reconstruction enables more of the skin to be saved and the cosmetic results can be better, but there could be a higher risk of complications and a longer recovery time. Whilst delaying your reconstruction gives you more time to consider your options and it may be the preferred choice if you need to have radiotherapy after the mastectomy.
The procedure can be accomplished with a breast implant, your own tissues or a combination of both. Your Surgeon will discuss all of the options with you and then advise what technique would be best for you. Breast reconstruction often involves several operations to give you the best result possible.

| | |
| --- | --- |
| Operation Time | 45 minutes – 6 hours |
| Anesthesia | general |
| Nights in hospital | 2 |
| Common Risks | common bruising, swelling, temporary numbness |
| Uncommon Risks | infection, bad scarring, asymmetry, bleeding, capsular contraction, seroma |
| Pain and discomfort | 3 – 7 days |
| Follow-up after surgery | 1 week, 2 weeks, 3 months |
| Time off work | 1 – 2 weeks |
| Sports | 2 weeks walking |
| | 4 weeks fast walking |
| | 6 weeks everything |
| Result | 12 weeks until final result scars continue to improve over 18 months |
What are the techniques of breast reconstruction?
There are two main categories of breast reconstruction, implant methods, and non-implant methods. The implant methods are chosen when there is a sufficient amount of healthy skin to stretch to accommodate the implant. Very often, an adjustable implant is chosen, which is not fully filled when it is first put into position, but then can be gradually inflated with salt-water in the office, a little each week, until the correct size is reached, or even temporarily a little larger than final desired size. Then at a later operation, that expander is either converted into a long-term implant, or is replaced by a long-term implant. The non-implant methods are chosen when there is too little skin remaining after the mastectomy, or the skin is too tight, too thin, or damaged by radiation. Then healthy tissues have to be transferred from other areas of the body, usually the abdomen, or the back, or the buttock region. These transfers may require more than one operation to accomplish. Occasionally an implant is also added.
When is the best time to do breast reconstruction?
There is no one "best" time for every patient, because the timing depends upon many factors that are different for each individual woman. But in general, a good time to do reconstruction is right at the same time as the mastectomy, or within a few days later. In contrast, the first few months beyond those opportunities are not as favourable, because of the healing that is going on. And then, after at least six months have passed, the timing becomes optimal again, and stays so for years, unless there has been radiation therapy. Radiation therapy greatly complicates reconstruction to a degree that increases as the years go by. If there is to be radiation, most plastic surgeons will try to accomplish the reconstruction as early as possible.
Where are the scars after breast reconstruction?
There will always be the scar from the mastectomy itself, although that may be moved or shifted slightly. If an implant-only reconstruction was chosen, then that will likely be the only scar. If tissues are transferred from elsewhere, then there will be scars from the donor site, as well as additional scars on the breast itself very often.
Can breast cancer come back after breast reconstruction?
It is always possible that breast cancers can return, even after many years, and that possibility is not changed by having had reconstruction. Modern techniques are able to detect such recurrent cancers just as early and as well as without reconstruction.
What should I look for when choosing a surgeon?
You should ensure that the surgeon has all the relevant qualifications and accreditations. It is also important to establish just how many procedures the surgeon has carried out. Our surgeon is UK accredited and is a fully-qualified GMC registered Consultant Plastic, Cosmetic Surgeon, he is a member of the British Association of Aesthetic Plastic Surgeons (BAAPS) in addition to being a member of the British Association of Plastic, Reconstructive and Aesthetic Surgeons (BAPRAS). Our surgeon is also a member of the American Society of Plastic Surgeons (ASPS), the Association of Breast Surgery (ABS) and the British Association of Surgical Oncology (BASO). Our surgeon has also been awarded prestigious fellowships including Royal College of Surgeons of England FRCS (Eng), Royal College of Surgeons in Edinburgh (FRCSEd) and a specialist fellowship in Plastic, Reconstructive and Aesthetic Surgery. Our lead surgeon is fully trained, qualified and experienced and would be entitled to hold a substantive NHS Consultant Plastic Surgeon post in the NHS As well as the accreditations and qualifications it is also important that you develop a good rapport with your surgeon and that they understand fully what you hope to achieve from the operation and also your desired appearance following your breast reconstruction surgery.
What support can I expect when making the decision to have surgery?
You can expect ongoing support and access to our surgeon if you so wish.  Our partners The Wright Initiative can also offer psychological support.
What are the possible risks associated with breast reconstruction surgery?
As with any surgery there are always risks but these will be fully explained by your plastic surgeon in your consultation. Some common risks include bruising, swelling and temporary numbness more uncommon risks can be infection, bad scarring, asymmetry, bleeding and capsular contracture.
What recovery should I expect?
There will be swelling and bruising after the surgery and you can expect to feel pain and discomfort between 3-7 days. You should take between 1-2 weeks away from work and refrain from running for up to 4 weeks.
What happens after the surgery?
You will receive follow up appointments with the surgeon after 7 days, 2 weeks and 3 months but if you have any concerns you can meet up with the surgeon as many times as you like free of charge.
What results can I expect?
Check out our before and after photos in this section.
Our cost for a breast reconstruction varies on which type of reconstruction you decide.
The procedure is usually performed under a general anaesthetic at our specialist clinic and usually involves a two night stay in hospital.
This cost includes all your consultations before surgery and unlimited appointments following your procedure.
For a consultation please complete our contact form or telephone 0800 001 6688