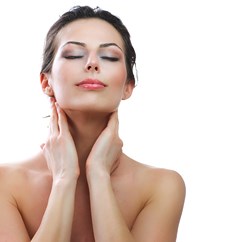 Neck Lift Surgery
Neck Lift surgery reshapes the skin around the neck and jaw, reducing the appearance of sagging skin and other visible signs of ageing. Neck lift procedures include removing loose skin, liposuction to remove fat, fat transfer to modify shape or a technique called platysmaplasty to tighten the underlying muscles of the neck.
Some people choose to get a neck lift in addition to a face lift if they are having sagging skin in that area. This creates a more harmonious appearance. To make the face and neck look youthful you may also choose to get the skin on the neck pulled back in addition to a face lift.
The procedure takes between two and four hours. The recovery period at the hospital will be one day and the recovery period at home will be between two and three weeks. Patients may be advised to wear a neck pressure garment to support in the early days and to avoid strenuous activities
What is neck lift surgery?
Neck lift surgery involves one or a combination of procedures to reshape the neck and the area around the jaw. This is achieved through liposuction, removal of skin and platysmaplasty which involves tightening of muscles in the neck. This procedure helps to reduce the visible signs of ageing around the neck and jaw.
Who & why should consider neck lift surgery?
As individuals age the skin around the neck begins to sag and in some cases accumulation of fat is witnessed. Individuals who have excessive skin around the neck and experience sagging are the best recipients for neck lift surgery.  Through liposuction, fat reduction in the neck and shaping helps to get a smooth and appealing neck.
Benefits of neck lift surgery
Neck lift surgery offers many benefits which include the following
Removal of excess skin around the neck and the jaw
Removal of fat around the neck and jaw
Smoothening of the skin around the neck and the jaw
Reduction in visible signs of ageing around the neck and the jaw through neck lift surgery
Reduction of sagging jowls in the neck
Preparing for surgery
Preparation for neck lift surgery should ideally involve the following as it is performed under general anaesthesia
Abstain from alcohol for a week and smoking for a month prior to the surgery
Share detailed medical history with specialist prior to procedure
Be ready to go on painkiller medications after the surgery
Be prepared to stay away from work for two weeks
After the treatment& Recovery time
Post neck lift surgery the following will be necessary
Wearing of a wrap or a neck pressure garment around the neck in the initial stages after the neck lift surgery
The sutures that are placed in the incisions during the neck lift surgery will be removed after around a week or ten days
Bruising may be experienced for around two to three weeks after the neck lift surgery
Avoid turning the neck to either side for the first couple of weeks post surgery
Patients may experience a sore or tight feeling after the neck lift surgery

| | |
| --- | --- |
| Operation Time | 1 hrs |
| Anesthesia | general |
| Nights in hospital | 1 |
| Common Risks | common bruising, swelling, temporary numbness, headache |
| Uncommon Risks | infection, bad scarring, asymmetry, bleeding, permanent numbness, nerve damage |
| Pain and discomfort | 3 – 7 days |
| Follow-up after surgery | 1 week, 2 weeks, 3 months |
| Time off work | 2 – 4 weeks |
| Sports | 2 weeks walking |
| | 4 weeks fast walking |
| Result | 4 weeks until final result scars continue to improve over 18 months |
What happens at my first consultation?
During your consultation it is very important that you fully discuss the the pros and cons of your procedure. Your surgeon will discuss the procedure in full including any risks involved in addition to the likely outcome. Your surgeon will also discuss whether or not you are suitable for a neck lift or if there is an alternative depending on your desired outcome.
Who is the most suitable for neck lift surgery?
Patients who would benefit from a neck lift are those women whose muscles and skin under the neck have started to loosen, and turkey neck jowls may form, slashing your confidence.
What should I look for when choosing a surgeon?
You should ensure that the surgeon has all the relevant qualifications and accreditation.It is also important to establish just how many procedures the surgeon has carried out. Our surgeon is UK accredited and is a fully-qualified GMC registered Consultant Plastic, Cosmetic Surgeon, he is a member of the British Association of Aesthetic Plastic Surgeons (BAAPS) in addition to being a member of the British Association of Plastic, Reconstructive and Aesthetic Surgeons (BAPRAS). Our surgeon is also a member of the American Society of Plastic Surgeons (ASPS), the Association of Breast Surgery (ABS) and the British Association of Surgical Oncology (BASO). Our surgeon has also been awarded prestigious fellowships including Royal College of Surgeons of England FRCS (Eng), Royal College of Surgeons in Edinburgh (FRCSEd) and a specialist fellowship in Plastic, Reconstructive and Aesthetic Surgery. Our lead surgeon is fully trained, qualified and experienced and would be entitled to hold a substantive NHS Consultant Plastic Surgeon post in the NHS As well as the accreditation's and qualifications it is also important that you develop a good rapport with your surgeon and that they understand fully what you hope to achieve from the operation and also your desired appearance following your neck lift surgery.
What support can I expect when making the decision to have surgery?
You can expect ongoing support and access to our surgeon if you so wish.  Our partners The Wright Initiative can offer psychological support..
What does the procedure involve?
Most neck lifts are performed on an out-patient basis. After surgery, your surgeon will place a pressure dressing that will wrap around your head and underneath your chin. Your neck will feel tight and sore as the anesthesia wears off, and may show even more swelling and possible bruising over the next 3 days. Dressings may be removed after just a few days, but your sutures will remain in place for 7-10 days.
Our cost for a neck lift is from £7,995, dependent on consultation.
The procedure is usually performed under a general anaesthetic at our specialist clinic and normally involves an overnight stay.
This cost includes all your consultations before surgery and unlimited appointments following your procedure.
For a consultation please complete our contact form or telephone 0800 001 6688.