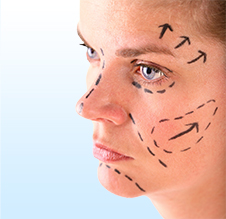 Fat Transfer to Face
Fat transfer removes fat using Liposuction from areas of the body that have an excess such as the abdomen, buttocks or thighs. The fat is then injected to another area of the body to restore volume or to smooth wrinkles. There are many advantages with this technique: it is safe, lasts a long time. It is an effective filler that can be used for a number of different procedures.
In this procedure which is usually performed as a day case under local anaesthetic, small incisions are made, not only to remove the fat with liposuction, but also to re-inject the fat into the graft area. After surgery you will be prescribed a course of antibiotics. You may also be advised to take a mild painkiller if you experience any discomfort. There will be some bruising and swelling which may last for a week or so. Strenuous exercise should be avoided for two weeks but you may return to work after a couple of days. The stitches will be removed after five to seven days.
The chances of long-term survival of the fat cells are much better if very small amounts are put in at a time. Therefore, multiple sessions are usually needed to achieve the best result.

When fat is transplanted to another site it needs new blood vessels to grow into it to provide nourishment for the fat cells. This procedure has been refined to improve the survival of fat to around 50-60% (previously it was about 10-20%). This is achieved by  purifying the fat after it is harvested and then by placing it in multiple tunnels to build up layers which can reliably be nourished by new blood vessels,
The cost of a Fat Transfer to face is from £2,600.
The procedure is usually performed under a Local Anaesthetic at our clinics.
This cost is a fixed care package and includes all your follow-up appointments with the surgeon.