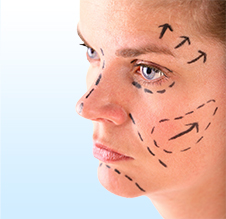 Fat Transfer to Face
Fat transfer removes fat using Liposuction from areas of the body that have an excess such as the abdomen, buttocks or thighs. The fat is then injected to another area of the body to restore volume or to smooth wrinkles. There are many advantages with this technique: it is safe, lasts a long time. It is an effective filler that can be used for a number of different procedures.
In this procedure which is usually performed as a day case under local anaesthetic, small incisions are made, not only to remove the fat with liposuction, but also to re-inject the fat into the graft area. After surgery you will be prescribed a course of antibiotics. You may also be advised to take a mild painkiller if you experience any discomfort. There will be some bruising and swelling which may last for a week or so. Strenuous exercise should be avoided for two weeks but you may return to work after a couple of days. The stitches will be removed after five to seven days.
The chances of long-term survival of the fat cells are much better if very small amounts are put in at a time. Therefore, multiple sessions are usually needed to achieve the best result.
What is fat transfer to face?
Fat transfer to face involves a dual procedure. Through liposuction fat is extracted or sucked out of areas of the body where fat is in excess and the extracted fat is injected to the face as a natural filler. Ageing results in loss of facial volume, with associated loss of skin elasticity causing a sunken appearance. Fat transfer to face procedure is the best method to restore lost volume to the face.
When fat is transplanted to another site it needs new blood vessels to grow into it to provide nourishment for the fat cells. This procedure has been refined to improve the survival of fat to around 50-60% (previously it was about 10-20%). This is achieved by  purifying the fat after it is harvested and then by placing it in multiple tunnels to build up layers which can reliably be nourished by new blood vessels,
Who should consider fat transfer to face?
The ideal beneficiaries of fat transfer to face are individuals who have lost volume in the face due to the natural process of ageing or individuals who require intervention to correct a defect in appearance due to one of many reasons. Many individuals resort to this procedure to smooth out fine wrinkles. When volume fills the underlying area, the wrinkles automatically get smoothened.
Benefits of fat transfer to face
Fat transfer to face offers many benefits to individuals some of which are outlined below:
Removal of fat from areas where excess fat is observed called liposuction
Filling of areas of the face that appear sagging or sunken due to ageing
Smoothing out the fine wrinkles and lines on the face through fat transfer to face
Natural fillers ensure that the grafted area does not exhibit any reactions that may be seen with other fillers
Long lasting when the procedure is performed over multiple sessions
Preparing for surgery
Fat transfer to face surgery is a dual process of liposuction and grafting of the excess fat into the face, thereby calling for routine preparations, profiled below
Share your expectations very clearly and hear the suggestions regarding feasibility of some of your objectives.
Understand the procedure and the expected outcomes.
If the procedure needs to offer greater chances of lasting long, it needs to be performed over multiple sessions with small volumes of fat harvest and transfer
After the treatment & Recovery time
On conclusion of fat transfer to face surgery you need to be prepared for the following :
Bruising and swelling in the graft area that may last for a couple of weeks
Numbness in the area where the grafts or incisions were made
Small scars where the incisions were made, which will fade over time
The fat in the injected area may sometimes be absorbed into the blood stream during the first few months
After six months you can expect to see the full effects of fat transfer to face surgery
Side Effects & precaution to take
While side effects are rare and minor during a fat transfer to face surgery, it is better to be expect one or a few of the side effects to manifest at times :
Bruising and swelling that will heal with time
Numbness in the area where the graft was performed
Fat necrosis could occur during the procedure which may require the suction of additional fat
Hypertrophy through scarring may sometimes occur in a limited number of cases

The cost of a Fat Transfer to face is from £4,500.
The procedure is usually performed under a Local Anaesthetic at our clinics.
This cost is a fixed care package and includes all your follow-up appointments with the surgeon.