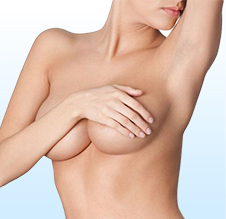 Fat Transfer to Breasts
Fat transfer is a way of restoring fullness without using implants. This procedure is becoming increasingly popular as it is safe and less invasive. Another benefit is that once the fat has a good blood supply it is likely to last a long time whereas it is recommended that implants are changed every ten to fifteen years.
Using Liposuction, fat is removed from the waist, buttock or thighs.  The fat that has been removed is then used to increase the size of your breasts.  The procedure can be done under general or local anaesthetic.  After surgery you will be prescribed a course of antibiotics. You may also be advised to take a mild painkiller if you experience any discomfort. There will be some bruising and swelling which may last for a week or so. The stitches will be removed after five to seven days.

The cost of a Fat Transfer to Breasts depends on the amount of fat you want to be transferred. This procedure starts from £8,100-10,495, depending on consultation.
The procedure is usually performed under a general anaesthetic at our specialist clinic and usually involves a one night stay in hospital.
For a consultation please complete our contact form or telephone 0800 001 6688