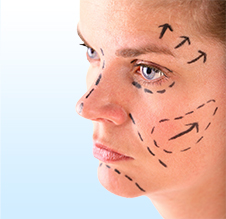 Silhouette Facelift
The silhouette threads face lift is a new minimally invasive cosmetic surgery technique that can restore a younger appearance. The thread lift is used for the face, to treat lines around the jaw and nose. It is also used for sagging skin on the neck, and as an eyebrows lift. A silhouette thread lift lasts between five and seven years.
The procedure is performed using a local anaesthetic. There may be some bruising and swelling, usually lasting up to a week. Although, infection is rare a course of antibiotics is prescribed as a precaution. Sometimes the area may feel numb but this settles once the thread is encapsulated in scar tissue.
The treatment is performed as a day case with local anaesthetic.
The silhouette face lift uses specialised surgical threads to lift up soft, sagging tissues. The threads, made of extra-strong polymer, are slipped down from an incision at the temple, and then attached at the jowls and the folds around the nose.
The procedure takes one to two hours, depending on the number of threads used and the areas to be treated.
The threads are very durable, and can stay in soft tissues indefinitely. The anchoring cones are designed to be gradually broken down by the body, by which time scar tissue binds to the threads, and keep them in place.
| | |
| --- | --- |
| Operation Time | |
| Anesthesia | |
| Nights in hospital | |
| Common Risks | |
| Uncommon Risks | |
| Pain and discomfort | |
| Follow-up after surgery | |
| Time off work | |
| Sports | 2 weeks walking |
| | 4 weeks fast walking |
| | 6 weeks everything |
| Result | 12 weeks until final result scars continue to improve over 18 months |
What happens at my first consultation?
During your consultation it is very important that you fully discuss such things as the procedure, the complications, the results and the aftercare you will receive.
What happens after my first consultation?
You will meet with our surgeon to discuss the pros and cons of your procedure. In this consultation it is very important that you feel you have time to adequately explain to your surgeon what your aims are.
What should I look for when choosing a surgeon?
You should ensure that the surgeon has all the relevant qualifications and accreditations. It is also important to establish just how many procedures the surgeon has carried out. Our surgeon is UK accredited and is a fully-qualified GMC registered Consultant Plastic, Cosmetic Surgeon, he is a member of the British Association of Aesthetic Plastic Surgeons (BAAPS) in addition to being a member of the British Association of Plastic, Reconstructive and Aesthetic Surgeons (BAPRAS). Our surgeon is also a member of the American Society of Plastic Surgeons (ASPS), the Association of Breast Surgery (ABS) and the British Association of Surgical Oncology (BASO). Our surgeon has also been awarded prestigious fellowships including Royal College of Surgeons of England FRCS (Eng), Royal College of Surgeons in Edinburgh (FRCSEd) and a specialist fellowship in Plastic, Reconstructive and Aesthetic Surgery. Our lead surgeon is fully trained, qualified and experienced and would be entitled to hold a substantive NHS Consultant Plastic Surgeon post in the NHS As well as the accreditations and qualifications it is also important that you develop a good rapport with your surgeon and that they understand fully what you hope to achieve from the operation.
What happens if I lose or gain weight after the surgery?
If you did lose or put on weight, the breasts would change slightly with this. A significant amount of breast tissue would be removed and there would be less breast tissue to increase and decrease in size – however, the remaining breast tissue will act in the normal way and if you put on weight the breasts will enlarge and if you decrease in weight the breasts will decrease in size. This change however, as I mentioned, would be less than if you did not have a breast reduction.
What would you recommend for scar reduction aftercare?
Following surgery, you will wake up in a bra with special tape on your scars. We recommend you continue the tape support of your scars for 6 weeks following your surgery as this will reduce the risk of the scar widening with time. On some occasions the scars can become slightly raised and red (hypertrophic scars) and if this does occur we can treat the areas with silicone pressure pads and in some cases injections of triamsinlone which is a very mild steroid.
What support can I expect when making the decision to have surgery?
You can expect ongoing support and access to our surgeon if you wish. Our partners the Wright Initiative also offer psychological support.
What are the possible risks associated with surgery?
As with any surgery there are always risks but these will be fully explained by your plastic surgeon in your consultation. Some common risks include bruising, swelling and temporary numbness more uncommon risks can be infection, bad scarring, asymmetry and bleeding.
What does the procedure involve?
The procedure is done under general anaesthetic and you will  usually stay in hospital for 1 night.
How long does the surgery take?
The surgery usually takes 2-2.5 hours.
What recovery should I expect?
There will be swelling and bruising after the surgery and you can expect to feel pain and discomfort between 3-7 days. You should take between 1-2 weeks away from work and refrain from running for up to 4 weeks.
What happens after the surgery?
You will receive follow up appointments with the surgeon after 7 days, 2 weeks and 3 months but if you have any concerns you can meet up with the surgeon as many times as you like free charge.
What results can I expect?
Check out our before and after photos in this section.
Our cost for a sillhouette facelift is from £4,995.
The procedure is usually performed under a general anaesthetic at our specialist clinic and usually involves a one night stay in hospital.
This cost includes all your consultations before surgery and unlimited appointments following your procedure.
For a consultation please complete our contact form or telephone 0800 001 6688